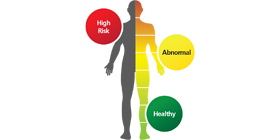 Benefits Available
Bankmed benefits make provision for one Personal Health Assessment per beneficiary per annum, over the age of 18 per year.
What Can A Personal Health Assessment (PHA) Tell You?
The PHA is a health screening tool that highlights any current health risks. Once any risk is identified, it will then need to be confirmed by your GP.
Step 1
Download the Personal Health Assessment, HIV/AIDS Counselling and Testing Questionnaire.
Step 2
Do not complete the Wellness Screening section as this has to be completed by a Healthcare Professional. Complete all other sections.
Step 3
Take your form to an accredited GP, pharmacist, biokineticist or nurse in the Bankmed Wellness Network.
Who Pays For This Assessment?
Bankmed Personal Health Assessments are paid for from the insured pool of funds of your Plan type. The Insured Benefit is the portion of your medical aid that does not affect your day-to-day benefits. This means that it is not paid from your Medical Savings Account (should you be on the Core Saver, Comprehensive or Plus Plans) and it also does not affect any of your consultation limits (should you be on the Essential, Traditional or Basic Plans).
Download the list of network providers here.
Will The Personal Health Assessment Test Appear On My Medical Aid Claims Statement?
Every healthcare service provided to you by any Healthcare Professional is required by law to reflect on your claims statement. To this end, the Personal Health Assessment also reflects on your claims statement under the Insured Benefit in the following manner:
The details of the Healthcare Professional who performed the assessment will appear under the TRANSACTION information section. For the Personal Health Assessment, the details of the Healthcare Professional who conducted your assessment will appear in this section
The PAYMENT information section reflects the amount that has been paid to the Healthcare Professional
The ADDITIONAL information section shows you from which benefit the payment has been made. In the case of the assessments, payment is out of the Insured Benefit if you complete it once per benefit year.