Finding your way back | A COVID-19 journey to recovery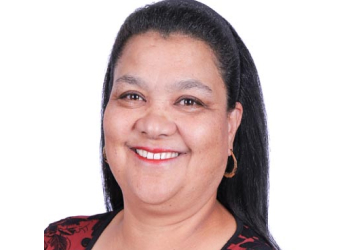 Being diagnosed with COVID-19 can be a frightening and isolating experience. We speak to Sandra Neveling – a wife, a mom, a Bankmed member and the Human Capital Administrator Coordinator for BankservAfrica – about her journey to recovery after contracting COVID-19.
At the time of writing this, South Africa boasted an 87,5% recovery rate on COVID-19 infections. However, despite these very promising figures, many people still don't know what it is actually like to contract the Coronavirus. We turned to Sandra Neveling, a Bankmed member and COVID-19 survivor, to glean insight into the milestones she encountered on her journey to recovery.
Sandra says that before the global pandemic, her favourite pastime was to help organise events with her family and friends: "I love people and celebrating life. When I look back, it seems like we were always celebrating some occasion or sporting event." However, with the onslaught of Lockdown, this came to an abrupt halt and her love of social occasions was replaced with panic and fear: "I saw people become ill and afraid so I focused my attention on helping others in need. Unfortunately, on 16 July 2020, I fell ill and consequently tested positive for the Coronavirus."
"I felt really weak, I had intense body shivers, a sore throat and a tight chest with an awful retching dry cough. I also lost my sense of smell and taste, which is more distressing than you can imagine. It felt like having a severe case of Bronchitis," explains Sandra. She says that the worst part of having the Coronavirus was the tightness around her chest: "I really struggled to breathe, which was incredibly frightening."
Thankfully, Sandra has made a full recovery, and offers some pointers that really helped her along the way:
Don't be afraid to ask for help: Sandra can't seem to emphasise this enough – when you are very ill, having the support of loved ones is key to making a full recovery: "I thank God every day that I had so much love and support shown to me when I was ill. I am incredibly blessed that my husband, children, extended family and friends were by my side throughout my recovery. My employer, BankservAfrica, was unbelievably supportive and considerate in everything they did to help me. And I am also grateful for Bankmed – a medical scheme that has gone above and beyond during the pandemic to show empathy and care for all its members. I honestly don't know what I would've done without the help and support of all these special individuals."
Stay positive: Thinking positively and having a "can do" attitude can really help your mental wellbeing, says Sandra: "I am lucky to have an amazing husband of 32 years, Solly. He supported me by taking care of me and reminding me that together we are stronger. He regularly reminded me of all the obstacles that we have overcome in life so far, and that we would overcome this one too. Having this constant reassurance that the Coronavirus was just another hurdle that we will overcome was incredibly healing for me."
Recovery is not linear: Sandra says she made a full recovery within three weeks of falling ill: "The first week I was not even aware that I was sick but the following three weeks were tough. Unfortunately, recently, I was involved in a car accident with my daughter, and since then I have had difficulties breathing again. The doctors have told me that it is a common after effect of the Coronavirus. To be honest, this was incredibly disappointing, as I had thought I was completely symptom-free. I think that if I was prepared for these post-COVID symptoms, I wouldn't have felt so cheated – so it is important that people understand that the side effects of contracting the Coronavirus can take time to disappear and that relapses are common."
Know when to get help: "For survival, it is imperative that you have a clear understanding of when emergency care is necessary," says Sandra. According to the World Health Organisation (WHO), if you have tested positive for the Coronavirus and you are experiencing any of the following symptoms, you should go directly to the closest hospital: The inability to breathe properly, persistent pain or pressure on the chest, confusion, an inability to stay awake and/or bluish lips or face.
Invest in an oximeter: Sandra notes that thanks to Bankmed, she was able to get an oximeter, which measures oxygen saturation as an indication of how much oxygen is getting to the organs. Normal oxygen saturation levels are between 95% and 100%. Oxygen saturation levels below 90% are considered abnormally low and can be an indicator of the need for emergency care. "Being able to test and reassure myself that I wasn't critical kept me sane. It kept my mind from wandering off to terrifying thoughts of lying in a hospital bed attached to a ventilator. Knowing that I was not critical, gave me the strength to keep fighting."
Get your ducks in a row: The last thing you need when you are very ill, is to be worrying about becoming a financial burden on your family, so it is important to understand what your medical aid will cover and how to go about claiming for it.
Sandra elaborates: "I have never been so grateful to be a Bankmed member as I was when I was sick with the Coronavirus. As a medical insurance company, Bankmed has spear-headed the way forward in creating COVID-19 benefits for their members.
There is a list of new benefits that range from isolation hotels for recovering and quarantine periods, to relaxed network restrictions, and a special COVID-19 basket of care. This means that all members have sufficient cover if they happen to fall ill. Bankmed went above and beyond to help BankservAfrica get up to speed with the latest COVID-19 information which was incredibly helpful.
Lusanda Diba and Michelle Bam, (Senior Managers: Client Management Bankmed) assisted me with everything I needed in a respectful and caring manner. Thank you those special people who assisted me on my journey to recovery. Your health is the most important currency you have, so make sure you do everything to stay safe, healthy and informed."
If you want more information on how Bankmed has responded to the COVID-19 pandemic visit https://www.bankmed.co.za/portal/individual/novel-coronavirus-outbreak.